DIARY ENTRIES
THE SECOND FORCED MARCH FROM "MAALAG" R.A.F.-POW. CAMP,
TARMSTADT, GERMANY, 1945.
~ TO FREEDOM !!!! ~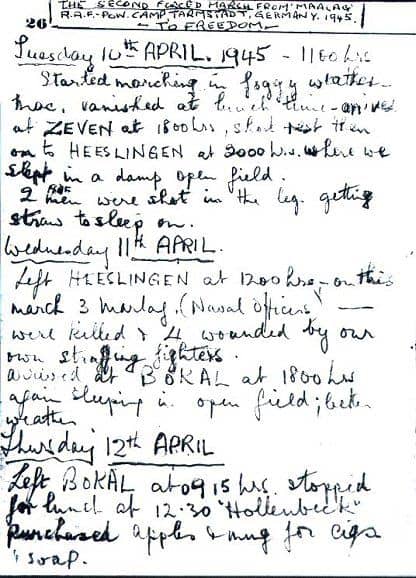 First page of Diary from which the following text is taken.
Click here for a map.

Tuesday 10th APRIL, 1945 - 1100 hrs.

Started marching in foggy weather - Mac. vanished at lunch time. Arrived at ZEVEN at 1800 hrs, short rest then on to HEESLINGEN at 2000 hrs, where we slept in a damp open field. 2 men were shot in the leg getting straw to sleep on.

Wednesday 11th APRIL

Left HEESLINGEN at 1200 hrs. On this march, 3 Marlag (Naval Officers) were killed & 4 wounded by our own strafing fighters.

Arrived at BOKAL at 1800 hrs, again sleeping in open field; better weather.

Thursday 12th APRIL

Left BOKAL at 0915 hrs. Stopped for lunch at 12:30 "Hollenbeck". Purchased apples & mug for cigs & soap.

1330 hrs the fat Unterofficer fell off his bike and bent it!

When resting at HARSEFELT, I sat on a window sill and broke the window. Managed to calm the owner with a piece of soap.

Camped 2 Km outside HARSEFELT.

Friday 13th April

24 hrs rest. Somebody bought a pram from a woman, taking the baby out & handing it over, [then] wheeling the pram away - 6 wheelbarrows pinched.

Sat 14th April

Moved off at 09.15 hrs after having coffee & shnaps that some kind goon gave us. Arrived at HEDENDORF at 15.15 hrs, where we camped in orchard.

Sunday 15th April

Left HEDENDORF at 0930 hrs. Arrived CRANZ near Hamburg on the Elb 17.30 hrs. Camped on waterfront. Cold night & misty.

Monday 16th April

At 15.50 hrs we crossed Elb on ferry to BLANKENESE, arriving at SÜLLDORF 1830 hrs. The N.Z. party next door killed a lamb & eat lamb chops for supper!

Tuesday 17th April

Left Sülldorf at 1000 hrs. Arrived "Ellerbek" 17.30 hrs. Severe thunderstorm in evening. Camped in damp field.

Wednesday 18th April

24 hr Rest. Helped German woman cut wood; had my first eggs.

Thursday 19th April

Left "ELLERBEK" 0940 hrs. At lunchtime halt I bought a small dog cart for 20 cigs, tin coffee & bar of choc (RED CROSS).

Arrived Tangstedt 16.30 hrs. Weather still fine but windy.

Friday 20th April

Left TANSTEDT at 0940 hrs. Bought rhubarb for soap.

Arrived ELMENHORST 1600 hrs. Rained a little in evening.

Saturday 21st April

Aircraft were firing over the field during the night. Started raining about 3 pm at night & continued steadily & at 7.45 am in the morning the fol. command was made: "Pack up & find cover where you can for the rest of the day".

We found cover in a barn in the village. At 3.45 pm we were given a warning not to leave the billets as SS Troops & tanks were retreating through village.

The evening meal was cooked on the farmhouse kitchen fire.

Sunday 22nd April.

Left "Elmenhorst" at 0945 hrs. Arrived "Lokfeld" 17.30, billeted in barns.

Monday 23rd April

Left "Lokfeld" at 10.15 hrs. Arrived "Hamberge" 1300 hrs. Billeted in barns belonging to Paul Beeck, but slept in straw shelter. Bad report on the Camp at Lubeck. Staying here a few days until it is settled where we are to be taken.

Tuesday 24th April

'RED CROSS' parcels received from Lubeck. Air raids during day & close cannon fire during night.

Wednesday 25th April

Air raids - cannonshell fragments found in farm yard; holes in roofs. News of move to another village.

Thursday 26th April

Some of the goon guards posted away. Put out P.O.W. RAF ground signs. Had bathe in river during afternoon. Made a frying pan watched by 3 females.

Ross Beldia moved into our mess.

Friday 27th April

Rained heavily. Bought 20 eggs for coffee. Slept in farm with goons. Peter (Waddington) pinched rhubarb.

Saturday 28th April

Moved off at 0900 hours. Arrived at WULMENAU 12.45. Billeted out in barns; on parole.

Sunday 29th April

Settling in.

Monday 30th April

Close attack by Tempests. I sheltered behind silo, which worked.

8,000 R.C. parcels arrived from Lubeck. Rumours that tanks are 18 Kms away.

Great concern over SOW farrowing. [?]

Tuesday 1st May

Signs put out on road: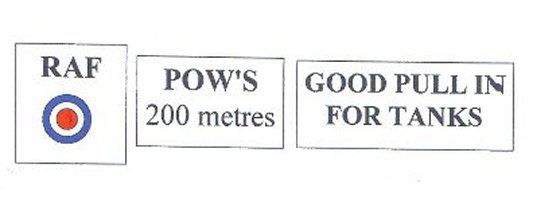 The war gets very close, in fact - all around us!!
At 9.45 pm Germans announced "Bad Oldersloe taken"!
WEDNESDAY 2nd MAY - 1945
At 1200 Hours I saw the first British Tank enter the farm yard prison.
Crew threw out chocs & cigs & left.
LIBERATED

HOORAY !

Click here for Final Repatriation
and photos taken with a confiscated German Camera

Go Back to Chapter Headings