On our 45th (Ruby) Wedding Anniversary I gave Margaret a Ruby ring, but I didn't know the name of the next one untl I looked it up on the Internet and found that it was based on Poetry. I wrote the following to enclose with my card and gave her the heart necklace embossed with the quoted phrase.
46TH ANNIVERSARY POEM
We'll always be together,
And my heart is yours for ever
This token tells you what I feel,
And I will leave you, never.
This thought comes to me clearly,
That I love you, Oh! so dearly.
My heart, you never had to steal,
T'was always yours, sincerely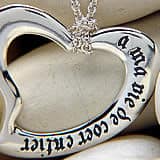 (a ma vie de coer entier)
(you have my whole heart for my whole life)