The Royal Society of Saint George is scheduled to hold a Trafalger Day Dinner-Dance during a Harbor Cruise on the "Spirit" motor launch from Long Beach. Th[s will depart the dock on the evening of October 20, 2007. The battle actually took place in the Bay of Biscay on October 21, 1805. However, this location will have already crossed over to October 21 by the time the RSSG Dinner-Dance kicks off. This poem was written in commemoration of this event.
TRAFALGAR DAY
Let us all try to think a bit,
On what it means to be a Brit.
We celebrate Trafalgar Day
When Nelson made Napoleon pay.
'Twas October twenty one they say,
When Nelson made Napoleon pay.
The French and Spanish ships were caught,
By Nelson's plan, although they fought.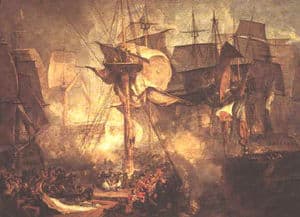 And fight they did, if truth be told,
The battle raged, both hot and cold,
We lost a lot of men that day,
But Nelson made Napoleon pay.
"England expects"! rose up on high,
'Twas heard for miles, that battle cry.
Flags fluttered from the "Victory's" mast,
Then Nelson was cut down at last.
Still men fought on through thick and thin.
They only had one thought, "To Win"!
As Nelson lay upon his back,
His men cried out, "Attack! Attack"!
So, when you think upon your fate,
We owe him much, there's no debate.
We celebrate Trafalgar Day,
'Cause Nelson made Napoleon pay.
Details on the battle may be found on Wikipedia at Battle_of_Trafalgar