THE BERLIN AIRLIFT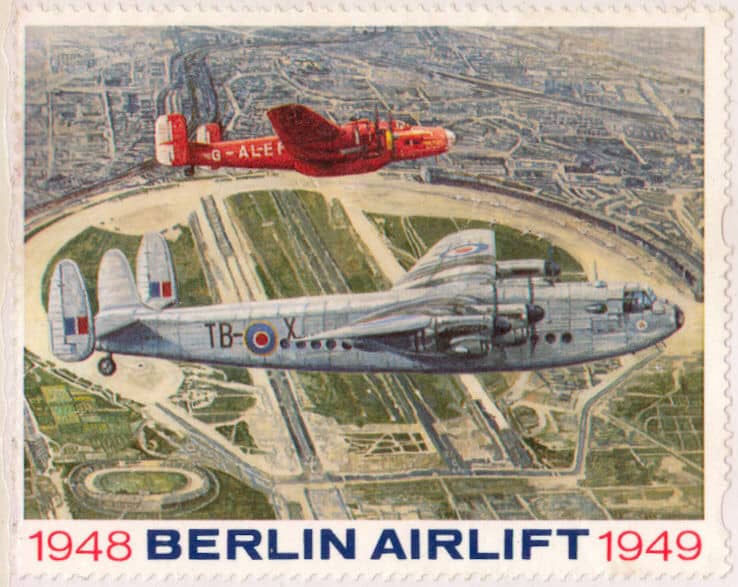 Comment from Les White (an LAC at Netheravon at the same time I was there).
E-mail address: les@showbizgb.com
I served as an LAC (leading aircraftsman)at RAF Netheravon servicing glider tow ropes during 1948. Iles@showbizgb.com remember Squadron Leader Porter who, like our Commanding Officer, "Groupie" Day was well liked and respected (unlike some other officers). Both had been "through the mill" during the war,and had an understanding of we lower mortals. On one occasion I remember a billet inspection by Warrant Officer Emblem (SWO Discip) and S/L Porter. There was a fuel shortage at the time and some of us had raided the Horsa "graveyard", and were in the process of reducing a flap to firewood. Mr Emblem made a few disparaging comments, expecting to be backed up but the response from the S/L was "It`s good to see someone showing a bit of initiative!"
A quote from my book "The Lure of the Blue" as remembered at the time of writing 1993;
"On the day of RAF Netheravon`s annual garden party in June 1948 we lounged in the afternoon sun listening to the Central Band of the RAF playing selections from "Oklahoma" and other current West End shows. A roar of aero-engines starting up was just audible and as the sound swelled above the music, all our serviceable Dakotas took off in a stream bound for North Luffenham and then on to the Berlin Airlift. It was a moment fit for the climax of the corniest Hollywood movie, yet as I watched,it suddenly crossed my mind that what I was witnessing was something utterly typical of the British character, carrying on in the normal way even when world shattering events were happening around us; ....... Patriotism is no longer fashionable but on that day gazing skywards with a lump in my throat, it was a scenario that stirred my deepest feelings.... and I was not alone! For all anyone knew at that point in time, the Russians may well have shot these unarmed aircraft out of the skies in a desperate attempt to maintain the embargo they had imposed by closing the corridor between West Germany and the Allied sectors of Berlin. A Lincoln had strayed into Russian airspace a short time previously and had been promptly shot down despite the fact that it was only a few miles outside the corridor, so that fears regarding the safety of our transports were not unfounded. The Dakotas of 1333TSTU, whose ropes we serviced, had the honour of being the first aircraft to participate in the operation and it was very satisfying to see D-Dog, in which I had flown more than once, being loaded as I sat in the Regent cinema in Christchurch watching the Pathe newsreel a week later."
When the Berlin Airlift was first suggested, I was the Sqdn/Ldr I/C Training, 1333 Transport Support Unit, at RAF Netheravon. Flying Instructors and aircraft were despatched to RAF Oakington for one night. The following morning we were briefed to fly to an ex-German base at Wünsdorf, where we stayed for about three days awaiting orders. I remember that we attended a birthday party while we were there. We then flew the aircraft to Celle, where we were briefed for an airlift along an air corridor to Gatow (Berlin).
| | |
| --- | --- |
| My first trip was at night and, although we saw some firing across our line of flight, we arrived safe and sound with our load of coal in sacks, returning to Celle next morning with a number of German civilians. These looked like regular refugees and sat on the floor of the Dakota. However, as they were wisked away promptly after we landed, I assumed that they must have had specialist knowledge of some sort. | |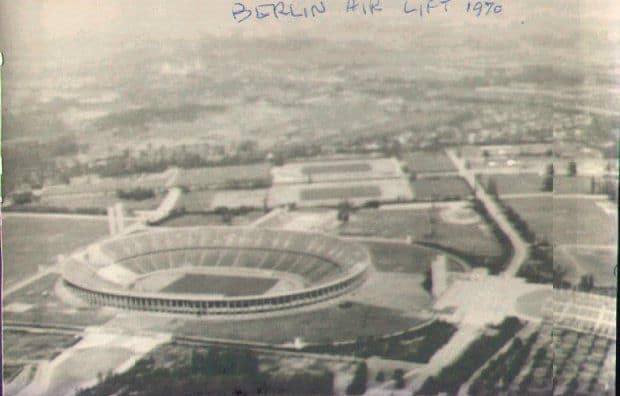 I took this photo as we flew over the site of the 1936 Olympic Stadium
At Gatow I managed to purchase a small beer mug for a few cigarettes from a German worker. After four or five days my unit was withdrawn and replaced by other aircraft and civilian Yorks, which had a larger carrying capacity. My Dak unit returned to RAF Netheravon where we found that Gp/Capt Day was away and that a new C.O. had taken over command of the station. This was the end of our efforts to ease the plight of the people in the British section of Berlin. The French and American sections were assisted by supplies from their respective units.
I was due for a new posting, but nearly got court-martialled instead! Luckily "Wings" came to my rescue once more and I lived to fight another day. You can read about this incident on the next page.

.