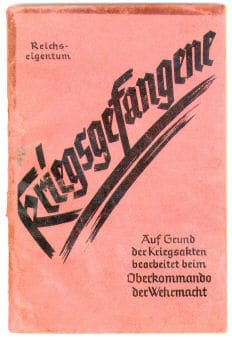 This book with the title "kriegsgefangene" (German for Prisoner of War) is an instruction booklet for German guards about "How to deal with Prisoners of War".
It also describes the different techniques that prisoners and the "homefront" can hide and conceal contraband and forbidden messages in packages.
It is obvious that the guards of Stalg Luft III definitely needed to study it better than they did!
This rather curious booklet was published by the High Command of the Fighting Forces as far back as 1939.
The dimensions of the book are approximately (5 x 8) inches.

(Courtesy of Ben van Drogenbroek).