JETS
I then spent a period as O.C.Unit, at Flying Training Command H.Q. where the C.in C. turned out to be the A.O.C. of 4 Group who had put me back on flying after my P.O.W. days. After this, at the age of 40, I completed a Jet Conversion Course at C.F.S. and was posted to Weston Zoyland on Meteors. Soon after this I was promoted to Wing Commander and posted to Merryfield as O.C. Flying, on Vampires.
Prior to my arrival, Ralph Swift was one of the first at Merryfield to train on Vampires. This was before the T11 was in service, so training was even more of a challenge at this time. Click on the following links to read about these early days at Merryfield.
The Vampire T11 became the first jet aircraft that RAF pilots were able to qualify on for their wings. The prototype T11 made its first flight on 15 November 1950. Total production reached over 800 of which some 530 went to the RAF. A typical Vampire T11 flying syllabus included, dual instruction, aerobatics, navigation exercises, instrument flying, night flying and formation drill over some 110 hours.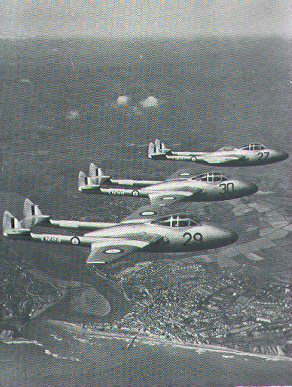 Vampire T-11s over Devon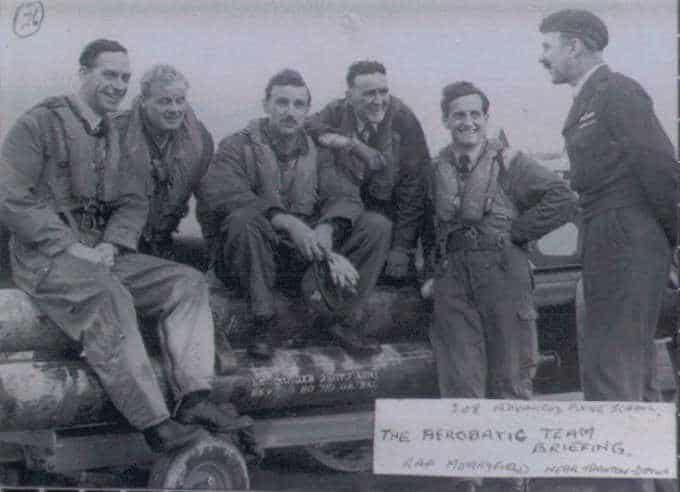 With the Aerobatic Team from 208 Advanced Flying School, RAF Merryfield
F/O Baumerman. F/L Buselton, F/L Butten, F/O Edwards, F/O Wilkinson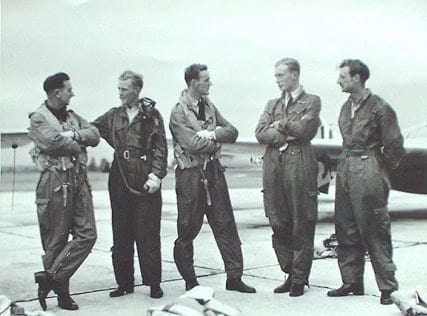 More of the pilots at Merryfield.
Roy Skinner, Tim Greenfield, Eddie Edwards, Coswell, Ron Butten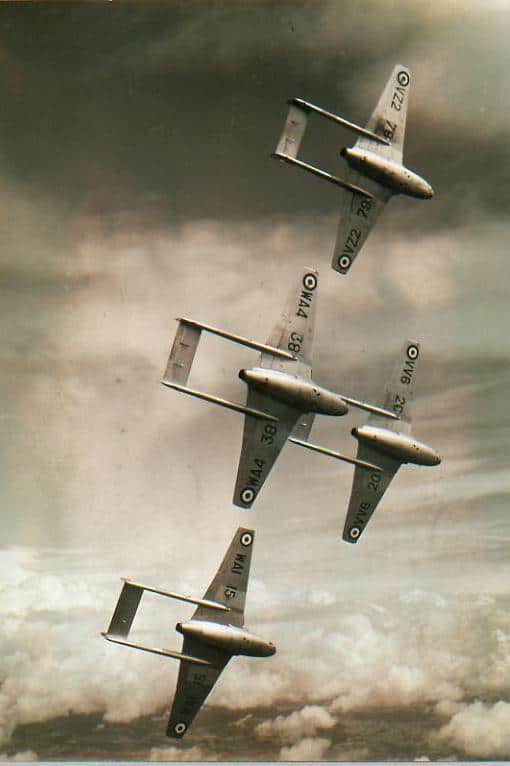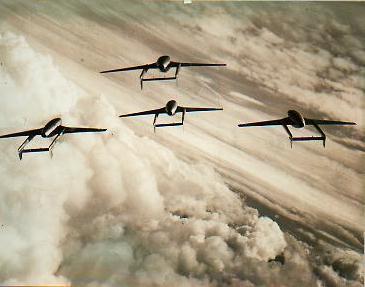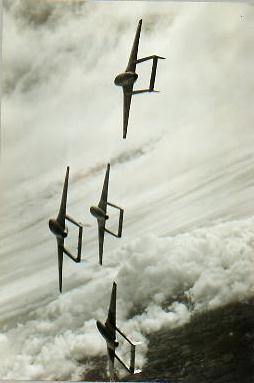 Some shots of the Vampire Aerobatic Team in action.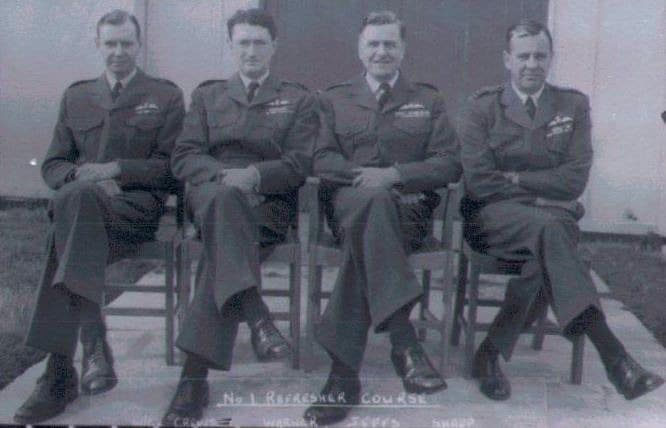 A Flush of WingCo's attending a Refresher Course at Merryfield
L to R: Wng/Cdr Crews, Warner, Jeffs, Sharp.

Wing Commander Jerry Warner D.F.C., A.F.C., was a pupil of mine at Merryfield for conversion to jets. (I was one of his Squadron Commanders on Dakotas in 1946).
| | | |
| --- | --- | --- |
| | | |
[CPOAC Colin M Handy, RNAS Merryfield wrote the following e-mail requesting any photos or info relating to the History of Merryfield.
Please check out the e-mail by clicking on its link and send him anything that you might have.]

Go to Next Page.