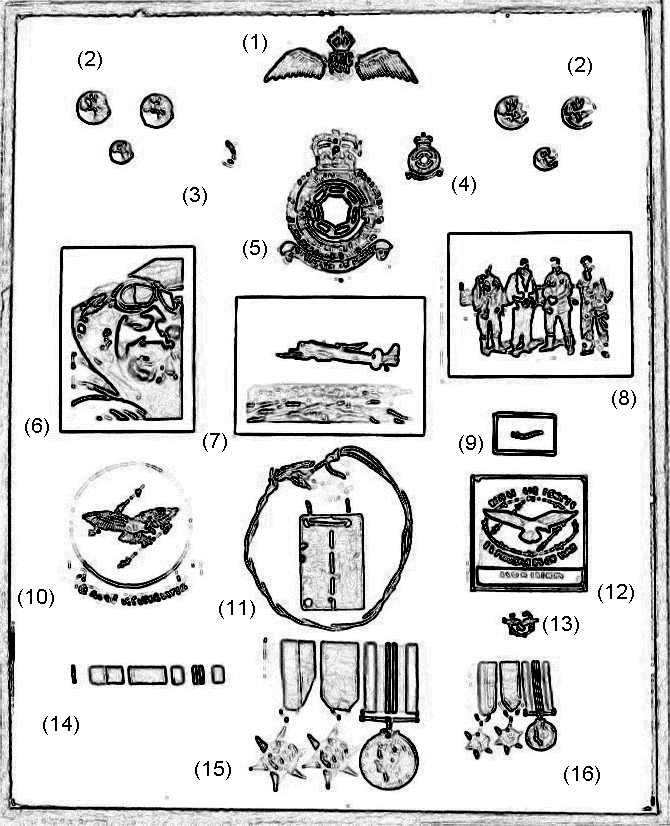 (1) My RAF Wings.
(2) RAF Association Blazer buttons.
(3) Friends of the RAF Assoc. Lapel Pin.
(4) 158 Squadron Lapel Pin.
(5) 158 Squadron Pocket Patch.
(6)Ready to GO!
(7) "The Ruhr Valley Express"
Halifax Painting by Tony Woollett.
(8) Photo taken before the first 1,000 bomber raid.
Jack Patterson (Nav), Self (Pilot), Frank Linklater (WOP), Don Hall (Bomb Aimer)
(9)Caterpillar Club Tie Pin
(Worn by RAF Aircrew who parachuted from a burning aircraft)
(10) Ex-POW Assoc Pocket Patch.
(11) My POW I.D. Tags
(StalagLuft 3; No. 583).
(12) Ex-POW Assoc Car Badge.
(13) Ex-POW Assoc. Lapel Badge.
(14) Medal Ribbon; (15)Parade Medals; (16)Dress Medals
1939/45 Star; Aircrew Europe Star; Defence War Medal.