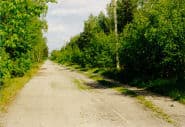 The road running in front of Stalag Luft III.
Photo taken in 1999.
The North Compound was directly to the Right.
It is a lucky break that the cobblestone roadway remains unchanged after more than 55 years (badly paved roads still being a common site in former Eastern-bloc countries).

(Courtesy of Ben van Drogenbroek).