CLASSWORK
There were all sorts of classes taking place each day; lecture types and also keep fit classes; some serious and some to hoodwink the German guards. Some Kriegies took them very seriously, to the point of sitting for some exams, and some even went so far as to obtain degrees! Of course, some subjects were being taught with a view to enabling specialist escapees on their way, should the opportunity occur for anyone to escape. With this in mind, the escape committee came up with many suggestions for courses that would help in making a "Home Run".

I remember one occasion when Group Captain Day (the Senior British Officer) was amongst a fake party with some of the chaps dressed as guards and with fake passes. They managed to get through the first exit gate before they were discovered and they all ended up getting a period of solitary in the "cooler".
Phil Colverwell did the sketch shown here when I was giving weekly lectures on Aircraft Maintenance. This was mainly to keep our minds sharp and did not really refer to escape plans. Most serious talk took place while we were walking on the circuit inside the camp because the German "Ferrets" (guards wearing overalls) hid under the huts listening to our conversations and crawled around poking long spikes into the ground looking for tunnels. Phil was an ex-"BRAT" (Halton apprentice) and was a close friend of mine.

We used the mneumonic F.U.C.E.M. as a way to remember the formula for rigging a biplane (easy enough to remember in our situation). It stands for: Fuselage; Undercarriage; Center Section; Empenage; Mainplanes.
The Theatre was another major occupation that had significant application towards escape preparations. Props were mainly built from Red Cross parcel crates and there was even some help from the German Red Cross in supplying costumes, make-up etc. All the actors were POWs. One of the actors, Lt RNAS "Pud" Davies, went on to continuing his acting career after the war. A list of the North Compound Theatre Shows is given below, along with the chaps who produced them. The Red Cross also sent us a few very welcome films. "Chips" Smallwood, the Wardrobe Master, was another good friend of mine. I was in Chip Smallwood's room one day, carving a copy of a German bayonet scabbard and staining it with boot polish, when in walked the German N.C.O. who arranged the provision of costumes etc.! Fortunately, I managed to hide the item under some blankets. We should have received a warning but our own security slipped up. I believe that Paul Tobolski used my scabbard as part of his uniform as a German guard "in charge" of Wings Day during the Great Escape.

NORTH COMPOUND THEATRE SHOWS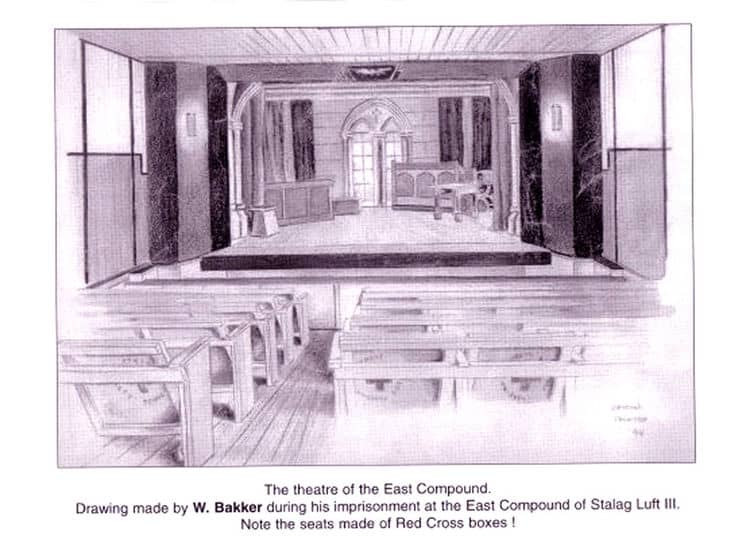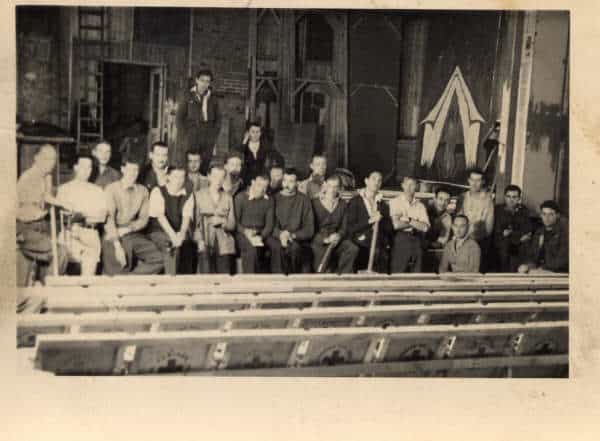 Photograph of the North Compound Theatre sent to me from Holland by Ben van Drogenbroek. Again, please note the Seats made from Red Cross boxes.
(Actually every compound had its own theatre.
When many prisoners of the East Compound were transferred to the new built North Compound, they were allowed by the Germans to build their own Compound-theatre.
The same happened when later at the South and the West Compounds.
The theatre of the East Compound was continued in use by the prisoners who stayed behind and the new prisoners who streamed into the Compound.
So East, Center, North, South and West Compounds had each its own theatre.
Of course the prisoners couldn't travel from one Compound to another because every Compound was surrounded by a double wired fence.
This is of course the reason that every Compound had its own theatre groups and bands. However, it was sometimes allowed that theatre groups or bands performed in another Compound as well as their own.)
Date

Play

Produced by

Sept 1943
"TURN BACK THE CLOCK"
"GEORGE AND MARGARET"
"DESIGN FOR LIVING"
Wings Larkin
Ken McIntosh
Viv Kelly
Oct 1943
"ROOKERY NOOK"
"MACBETH"

John Madge
John Casson
Nov 1943
"MUSIC HALL
"TWINKLE TWINKLE MR.STARR"
Wings Larkin
Tully Rothwell
Dec 1943
"TONY DRAWS A HORSE"
Rupert (Pud) Davies (*)
Feb 1944
"ESCAPE"
"BETWEEN OURSELVES" - Revue
Pat Greenhaus
Pete Butterworth
March 1944
"ARSENIC AND OLD LACE"
Tony Hudson
April 1944
"PYGMALION"
Ken McIntosh & Pat Greenhaus
May 1944
"PHILADELPHIA STORY"
MUSIC HALL"
Viv Kelly
Wings Larkin
June 1944
"I KILLED THE COUNT"
"BLYTHE SPIRIT"
Gordon Saunders
David Porter
July 1944
"THE MAN WHO CAME TO DINNER"
"I HAVE BEEN HERE BEFORE"
John Madge
John Casson
Aug 1944
"PALINA PANIC"
David Porter
Sept 1944
"MESSAL:INA"
"ST. JOAN"
David Porter
John Casson
Oct 1944
"THARK"
John Madge
Nov 1944
"THE FLASHING STREAM"
"AT HOME" - Revue
Pat Greenhaus
Pete Butterworth
Dec 1944
"IMPORTANCE OF BEING EARNEST"
"BAND SHOW No.4"
"MESSIAH"
"THE DRUNKARD"
David Porter
(Featuring the Les Lucas Band)
(Conducted by Arthur Loveland)
Billy Williams
Jan 1945
"FRENCH FOR LOVE"
Rupert (Pud) Davis (*)
(Soon after we were repatriated, a lot of the chaps who put on these performances put on a show in London. Copies of some of the PostCards I bought at this show can be seen HERE).
(*) Rupert (Pud) Davies appeared on BBC television
after the war as Inspector Maigret
in the series of that name.
FILMS SEEN AT THE CAMP
| | |
| --- | --- |
| "SHALL WE DANCE" | Fred Astaire |
| "ORCHESTRA WIVES" | Glen Miller |
| "DIXIE DUGAN" | Charles Ruggles |
| "CORSICAN BROTHERS" | Douglas Fairbanks Jr. |
| "BRINGING UP BABY" | Katherin Hepburn |
| "THE SPOILERS" | Marlene Dietrick |
| "THE MALE ANIMAL" | Henry Fonda |
| "OLD ENGLISH COUNTRY INNS" | See Post-War Section. |