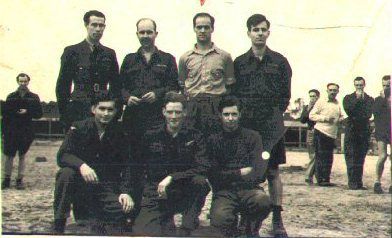 My East Camp Room-mates
[Top] Saunders, self, McGill, Walsh


(Note:J5312 F/L George E McGill, Canadian, 103 Sqdn. He and 3 others baled out of a damaged Wellington R1192 10/11-Jan-42 over Germany, on an operation to Wilhelmshaven. The Wellington managed to limp back to Elsham with a reduced crew. He took part in the Great Escape, but he was recaptured in Sagan area and last seen alive 31-Mar-44 before being murdered by Lux and Scharpwinkel and cremated at Liegnitz).